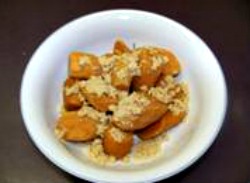 When cooking for two, especially if you're a single parent, you can quickly and easily make candied yams in the microwave while saving electricity, time and avoiding complicated steps to preparing candied yams the traditional way. They taste just as good as those you bake and they're no-fuss to make.
Ingredients
1 (30 oz) can of yams
Ѕ cup brown sugar
ј cup corn syrup
10 marshmallows
cinnamon/nutmeg to taste (optional)
favorite flavoring to taste (optional)
Directions:
In a medium size microwave safe bowl, place the yams. If you like your yams mashed, mash them with a fork now.
Add the brown sugar & corn syrup. If you'd like, you can add a little cinnamon and nutmeg for added flavor.
Microwave on high heat for 6 minutes or until yams are warm. Stir to coat well. Add the marshmallows and microwave for another 1-2 minutes or until melted.
Serve with your main meal or "after the holiday" sandwiches.