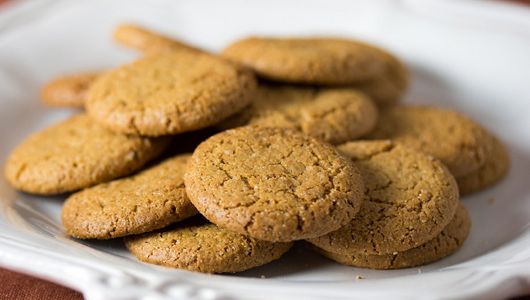 A recipe from the White House
8 oz (2 sticks) butter, room temperature                                3 cups all-purpose flour
1 1/2 cups packed brown sugar                                                   1 tsp baking soda
2 whole eggs                                                                                         pinch of salt
1/3 cups molasses                                                                             1 tsp dried ginger                                                 
2 tsp fresh ginger, grated                                                               1 tsp cinnamon
                                                                                                                  1/4 cup granulated sugar (for dipping)
1. Preheat oven to 350 F
2. Beat butter and brown sugar in large mixing bowl until creamy.
3. Add eggs, one at a time, beating well after each addition.
4. Add molasses and fresh ginger.
5. Combine flour, baking soda, ground ginger, cinnamon and salt in a small mixing bowl.
6. Add the flour mixture to large mixing bowl, and stir until combined.
7. Use a small spoon to scoop cookies into small balls, dip in 1/4 cup of granulated sugar and place on parchment-lined baking sheet sugar side up.
8. Bake at 350 F for 12 minutes, or less if you like them chewy.
9. Remove from oven and allow cookies to rest for 2 minutes before removing from cookie sheet.
Yields 30-36 cookies.