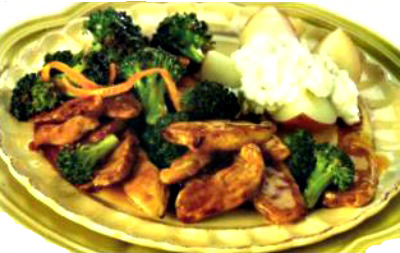 Ingredients:
4 ounces boneless, skinless chicken breast
1/2 cup broccoli
2 tablespoons orange juice concentrate
1 tablespoon low-sodium soy sauce
1 clove garlic, minced
nonstick cooking spray or olive oil
fresh ginger, grated (optional)
red chile flakes (like those you find in a pizza restaurant, optional)
Potato with Cottage Cheese
1 small white or red potato
1/4 cup 1% fat cottage cheese
Directions:
Cup the chicken breast into thin strips
Lightly coat a small frying pan with nonstick cooking spray or olive oil and brown the chicken.
Add broccoli and garlic and continue to cook until chicken is cooked through.
Add orange juice concentrate, soy sauce and garlic, and ginger and red chile flakes, if desired.
Toss well and cook 1-2 minutes longer, until orange juice turns into a glaze that coats the chicken and broccoli.
Potato Topped With Cottage Cheese
Wash and prick potato with fork.
Microwave for 2 minutes, or until cooked through
Top with cottage cheese.
Enjoy!
PS. Time of preparation 15 minutes.